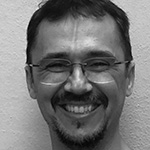 Research fellow in the project "TechNetEMPIRE – Technoscientific Networks in the construction of the built environment in the Portuguese Empire (1647-1871)" (PTDC/ART-DAQ/31959/2017), acting upon the technological feature of the project, with the Aveiro University, under the guidance of Professor Joaquim Sousa Pinto between March 2019 and March 2020 (12 months).
In  July 2020 he reentered the team as a research member.
Graduated in Computer Science, at the Ruy Barbosa College, Salvador, Bahia – Brazil (2005), postgraduate in IT Management by Metropolitan College of Belo Horizonte – MG, Brazil (2008), MBA in Applications Project for Mobile Devices by Instituto Newton Paiva Ferreira de Belo Horizonte – MG (2017). His previous professional experience also includes the area of web application development, creating the International People's Traffic System (STI) for the Federal Police Department of Brazil, managing the development team for the modernization of the Integrated System of Financial Administration (SIAFI) for the National Treasury of the Brazilian Government and the National Public Security System project, managing the implementation team of the mobile application, "Sinesp Cidadão", having collaborated as a business analyst for the following projects: Electronic Police Proceedings for the Ministry of Security, the Investment System for Direct Treasury Credit Lines of the Brazilian Government and the Integrated System of Personnel Administration of the Brazilian Federal Government, from 2005 to 2018. Currently, he is studying for a Master in Computer Engineering at Aveiro University, Portugal.