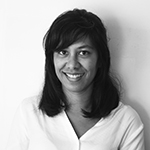 Graduated in Architecture (2012) by the University of Coimbra (DARQ-FCTUC) with the master thesis "Dili's Urbangraphy During Portuguese Colonial Rule".
She worked for the State Department of Art and Culture of Timor-Leste (SEAC) (2014) in the inventory of "Dili's Architectural Heritage of Portuguese Origins", being the author of the historiographical contents included in the final publication.
She was a contributor in the research projects "The Colonial Urbanization Offices – Architectural Culture and Practice" (FCT) (2012 – 2013) and "UNESCO's Global Report on Culture and Sustainable Urban Development – Regional Survey for Portuguese Speaking Countries" (UNESCO) (2015).
She is a PHD student (2012) in Heritages of Portuguese Influence (DPIP) in the University of Coimbra (III/CES – UC), with the thesis "The Construction of Colonial Timor: Political and Administrative Traces in Architecture, Urbanism and Territorial Ordering (1894 – 1975)".
CES – Centre for Social Studies of the University of Coimbra