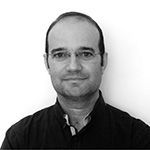 Jorge Correia holds a degree in Architecture (1999) and a PhD (2006) by the School of Architecture/University of Porto, Portugal ("Implantation de la ville portugaise en Afrique du Nord", FAUP publicações, 2008). His main research interests are devoted to the study of architectural and urban aspects of the European colonial geographical and historical expansion sphere between the 15th and 19th centuries, the cultural faces and challenges of heritage, as well as traditional Islamic cities' studies and their representation.
He is an Associate Professor at the School of Architecture-University of Minho (Architectural and Urban History courses) at Guimarães, a researcher and the deputy-director at the Landscape, Heritage and Territory Lab (Lab2PT). He was a Visiting Scholar Fellow and curator of the exhibition "Photographing the Arab city in the 19th century" at the Canadian Centre for Architecture, and a guest lecturer at UFRJ and UFES (Brazil), UJI (Spain), An Najah University (Palestine), Koya University (Iraq), Polis University (Albania), University of Belgrade (Serbia), Hanyang University (Korea), METU (Turkey) and Beirut Arab University (Lebanon). Among other engagements, he is also the vice-president of the European Architectural History Network (EAHN).
He coordinates FCT project "Spaces and lifestyles from the Portuguese period in Northern Africa" and recent publications include: chapters "Spain and Portugal" from 600 to 1910, in Sir Banister Fletcher A Global History of Architecture (2019), "Mascate, cidade ou território: para uma interpretação da sua defesa ao tempo português", in Revista de História da Arte – Cidade (In)Defesa/Defence(less) city, 13 (2018), "Traditional Islamic cities unveiled: the quest for urban design regularity", in Gremium, 4 (2015), "Azemmour, Morocco: early sixteenth-century Portuguese defences", in FORT Journal, 42 (2014), "Building as propaganda: a palimpsest of faith and power in Atlantic Maghreb around 1500", in Sacred Precincts: Non-Muslim Sites in Islamic Societies, 2014.
Lab2PT – Landscapes, Heritage and Territory Laboratory | Uminho
jorge.correia@arquitetura.uminho.pt