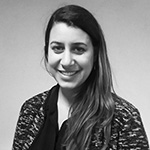 Is a researcher at CHAM – Centre for the Humanities, FSCH, Universidade Nova de Lisboa and Universidade dos Açores, and a PhD researcher in the project "TechNetEMPIRE – Technoscientific Networks in the construction of the built environment in the Portuguese Empire (1647-1871)" funded by FCT (PTDC/ART-DAQ/31959/2017).
Graduated (2004), master (2009) and PhD in Architecture (2018) by the Instituto Superior Técnico – University of Lisbon, she had a PhD scholarship in CERIS/IST-UL supported by Fundação para a Ciência e Tecnologia (2012-2016).Previously, she had professional experience collaborating in several architectural studios (2002-2010) in Portugal, Spain and Croatia with a scholarship by IAESTE (2004), teaching at vocational school in Barcelona (2010-2011) and co-coordinating the Architecture Summer Courses at IST-UL (2013-2018).
Her research focuses on the areas of History of Urbanism, Architecture and Traditional Construction in Portugal and the Mediterranean, with some works published on these subjects.
CHAM – Centro de Humanidades |NOVA FCSH – Uaç
mafaldapacheco@fcsh.unl.pt